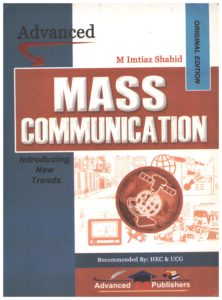 Free Download the Book Mass Communication by
MUHAMMAD IMTIAZ SHAHID
I am feeling proud that this new edition is being published by the prestigious publishing house "Advanced Publishers".
This edition contains more extensive changes than the preceding ones in the two respects in which the preceding ones have introduced changes: bringing the book up to date and refining concepts; and theoretical propositions. Since the first edition of this book appeared in 1991. The study of mass media has undergone more important changes than any time since the creation of Pakistan. In this perspective I have brought extensive change in the book.
Journalism has entered into the era of satellite. So, all new trends and issues have been incorporated in this new edition.
This book is based on a number of convictions, developed by the author in the course of practical experience and researching "mass communication." One of these convictions is quite simple that mass media is an essential area of study for those who would understand the way in which their environment works. However limited we scope and horizons of our involvement in the world, it is nowadays increasingly difficult to escape the media.
Mass media is a complex and contested field of study and this quality forms the basis for the ways in which the present text is organized and presented. The first feature of this book which should be made clear is that this is a study of "mass communication" as viz-a-viz to "journalism" Clearly, such a statement requires further elaboration and clarification, since it relates to the scope and focus of me study undertaken in the book.
Since the publication of first edition of this book readers are encouraging my efforts on the one hand and on the other hand I am facing negative tactics from some "rigid and stale quarters" One thing they don't know is that modern knowledge, research and intellect can't be stopped by negative means Instead. I advise them, they must indulge themselves into the ocean of knowledge. It is the only way for competition in modern era.
VIEWS
ABDUL WAJID
(Professor. Mass Communication Department, Islamiya University, Bahawalpur)
The time of today is that of progress of communication and media. Now the journalism is not limited to paper and pen but is moving towards radio, television, and other media. During the past few years journalism as a profession IS flourishing due to the coming up of new newspapers and TV channels. Keeping this in view journalism is also being introduced as a subject in colleges apart from the Master in Mass Communication. Many candidates opt journalism in C.S.S. examination and this book has been written keeping this in view, to provide maximum reading material on this subject The writer of this book M' Imtiaz Shahid has written it with lot of hard work to provide the reading material according to the 0.8.3 and PMS and ROS. Mr. M Imtiaz Shahid is a working journalist in the largest selling newspaper of the country. Working in daily Jang has given him better insight into journalism. This is the reason why the articles about different topics in journalism in this book are not only useful to the students and the general public but are also a source '0 the professional journalists. This is for sure that this book with its up-to-date material is a good addition to the best on mass communication and I congratulate Imtiaz Shahid on writing this necessary and useful book.
Allah Kare Zor-e-Qalm Aur Ziada.
SUHAIL WARRAICH
(Anchor person, Aik Din Geo Kay Saath. Incharge Political Cell. The News 'Lahore)
Young and energetic. Imtiaz Shahid is an emotional hardliner but unlike the most of the liberal youngsters he believes in research and usually justifies his beliefs and thoughts through arguments and logic. The book Mass Communication has been specifically written for competitive examinations but in my point of view this book is the most recent commentary of the mass communication industry. Off all, I read with keen interest the chapter "An Account of Axed Press 'which exposes all the Pakistani Governments. Democratic or undemocratic, both excesses done to the Press.