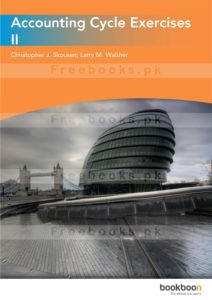 Free Download The Book Accounting Cycle (Exercises II) By Larry M. Walther and Christopher J. Skousen
Problem 1

"Robert Dennis formed a corporation to provide concrete construction work. His jobs typically involve building parking lots, drives, and foundations.
Robert provided the following information about transactions occurring during the first month of operation. Evaluate the transactions and prepare journal entries for this activity…

Problem 2
Anthony Moore recently formed an information technology services and consulting firm in England. He was very busy during the first month and has not yet had an opportunity to install his computerized accounting package.
But, he did understand the need to keep track of all transactions as they occurred. Following is a manual journal that he maintained for transactions occurring during January. All amounts are in the British Pound.
Anthony has requested that you prepare a ledger of the company's accounts, and post these transactions to determine the balance of each account. He needs this data in order to begin the process of transitioning to his new computerized accounting system…
Problem 3
The CEO of the newly-formed True Target printed a copy of the company's general ledger prior to a recent plane flight. She settled into seat 5A next to where you were sitting.
Once airborne, she removed the printed "GL" from her briefcase and began examining the report. Unfortunately, she realized that her printer had run out of ink on the very last page.
She is frustrated because she is not able to determine the company's exact profitability to date, and is on her way to a shareholder meeting where she is to issue a report on the company's progress. She happened to note that you were studying an accounting book, and asked if you might help her.
Prepare a trial balance from the general ledger, determine the missing amount for salaries expense, and determine the company's profit for its first month…
Problem 4
The following narratives describe transactions impacting cash, accounts receivable, accounts payable, revenues, and selected expense accounts. Use T-accounts to analyze this activity and determine the ending balances for accounts receivable and accounts payable.
At the beginning of the period, accounts receivable totaled $108,600, while accounts payable totaled $62,550. The company started the period with $170,000 in cash…
Problem 5
Monte Isola distributes electronic parts. Most transactions with customers are immediately paid with cash or check. But, Monte has five major customers that have established accounts.
These approved customers routinely buy on credit. The terms of the credit agreement provide that payment must occur within 30 days, and each customer has a maximum credit limit of $30,000…