You need to activate our plugin to view or download books more conveniently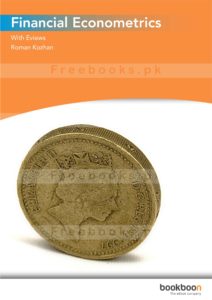 Roman Kozhan
Introduction to EViews 6.0
EViews is a simple, interactive econometrics package which proves many tools used in econometrics. It provides users with several convenient ways of performing analysis including a Windows and a command line interfaces. Many operations that can be implemented using menus may also be entered into the command window, or placed in programs for batch processing. The possibility of using interactive features like windows, buttons and menus makes EViews a user-friendly software. In this chapter we briefly introduce you main features of the language, will show you the use of some important commands which will be used further in this textbook. We will start with the interactive Windows interface and then go into more detailed description about the EViews' batch processing language and advanced programming features.
Regression Model
This chapter starts with the introduction to a linear regression analysis, estimation and inference methods. Regression analysis is widely used tool in financial econo-metrics. They are used to describe and evaluate the relationship between financial variables, perform forecasting tasks. This chapter provides only a short and brief description of main tools used in the regression analysis. More detailed discussion and deeper theoretical background can be found in Greene (2000), Hamilton (1994), Hayashi (2000), Verbeek (2008), Mills (1999), Zivot and Wang (2006).
Univariate Time Series: Linear Models
Time series is a sequence of numerical data in which observations are measured at a particular instant of time. The frequency of observation can, for example, be annual, quarterly, monthly, daily, etc. The main goal of time series analysis is to study the dynamics of the data. In this chapter we introduce basic time series models for estimation and fore-casting of financial data. Further details about theory of time series analysis cab be found in Hamilton (1994), Greene (2000), Enders (2004), Tsay (2002) and others.
Stationarity and Unit Roots Tests
Many financial time series, like exchange rate levels of stock prices appear to be non-stationary. New statistical issues arises when analyzing non-stationary data. Unit root tests are used to detect the presence and form of non-stationarity. This chapter reviews main concepts of non-stationarity of time series and pro-vides a description of some tests for time series stationarity. More information about such tests can be found in Hamilton (1994), Fuller (1996), Enders (2004), Harris (1995), Verbeek (2008).
There are two principal methods of detecting nonstationarity:
Visual inspection of the time series graph and its correlogram;
Formal statistical tests of unit roots.
Univariate Time Series: Volatility Models
In Chapter 3 we have considered approaches to modelling conditional mean of a univariate time series. However, many areas of financial theory are concerned with the second moment of time series – conditional volatility as a proxy for risk.
In this chapter we introduce time series models that represent the dynamics of conditional variances. In particular we consider ARCH, GARCH model as well as their extensions.
The reader is also referred to Engle (1982), Bollerslev (1986), Nelson (1991), Hamilton (1994), Enders (2004), Zivot and Wang (2006).
Multivariate Time Series Analysis
Multivariate analysis investigates dependence and interactions among a set of variables in multi-values processes. One of the most powerful method of analyzing multivariate time series is the vector auto-regression model. It is a natural extension of the uni-variate auto-regressive model to the multivariate case.
In this chapter we cover concepts of VAR modelling, non-stationary multivari-ate time series and cointegration.
More detailed discussion can be found in Hamilton (1994), Harris (1995), En-ders (2004), Tsay (2002), Zivot and Wang (2006).
If there is any problem to download, please right click on download button and open in new tab