You need to activate our plugin to view or download books more conveniently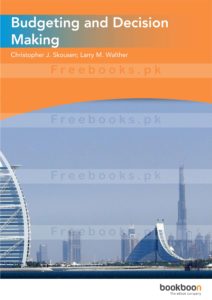 Your goals for this "budgeting" chapter are to learn about:
• The importance and use of budgets within an organization.
• The budget process and the impact of human behavior.
• The various components of a master budget.
• Budget periods and budget adjustments.
Importance of Budgets
In beginning to write this chapter, I tried to find words to "sugar coat" the title. Perhaps the word "budget" could be avoided altogether. Words like "financial map" or "operational guide" might be suitable alternatives. After all, for those of you already in the workforce, you probably associate the word "budget" with "dread" or "drudgery" or some other less than flattering term. No doubt, some employees will question the need for a budget. The process of budget preparation is sometimes seen as painful, and it is not always clear how the effort that is required leads to any productive output. Furthermore, budgets can be seen as imposing constraints that are hard to live with, and establishing goals that are hard to meet!
Despite the rather dismal introductory remarks, it is imperative that organizations carefully plan their financial affairs to achieve financial success. These plans are generally expressed as "budgets." A budget is a detailed financial plan that quantifies future expectations and actions relative to acquiring and using resources. Budgets don't guarantee success, but they certainly help to avoid failure.
Budget Processes and Human Behavior
A comprehensive budget usually involves all segments of a business. As a result, representatives from each unit are typically included throughout the process. The process is likely to be spearheaded by a budget committee consisting of senior level personnel. Such individuals bring valuable insights about all aspects of sales, production, and other phases of operations. Not only are these individuals ideally positioned to provide the best possible information relative to their respective units, they also need to be present to effectively advocate for the opportunities and resource needs within their unit.
The budget committee's work is not necessarily complete once the budget document is prepared and approved. A remaining responsibility for many committees is to continually monitor progress against the budget, and potentially recommend mid-course corrections. The budget committee's decisions can greatly impact the fate of specific business units, in terms of resources made available as well as setting the benchmarks that will be used to assess performance. As a result, members of the budget committee will generally take their task very seriously.
Components of the Budget
Business processes are highly complex and require considerable effort to coordinate. Managers frequently cite coordination as one of the greatest leadership challenges. The comprehensive or "master" budget is an essential part of the coordinating effort. Such budgets consist of many individual building blocks that are tied together in logical harmony, and reflect the financial plan for the entire organization. Careful articulation is essential.
The starting point for the master budget is an assessment of anticipated sales via the sales budget.
The expected sales level drives both the production plans and the selling, general, and administrative budget. Production drives the need for materials and labor. Factory overhead may be applied based on labor, but it is ultimately driven by overall production. The upper portion of the following graphic is a simplified illustration of these budget building blocks. Notice that the background colors of each block reflect dependency on another budget (i.e., the production and SG&A budget blocks each have a purple background because they are derivatives of the purple sales budget)….
Budget Periods and Adjustments
Budgets usually relate to specific future periods of time, such as an annual reporting year or a natural business cycle. For example, a car producer may release the 20X8 models in the middle of 20X7. In such a case, the budget cycle may be more logically geared to match the model year of the cars rather than the actual calendar year.
There is nothing to suggest that budgets are only for one year intervals. For purposes of monitoring performance, annual budgets are frequently divided into monthly and quarterly components. This is helpful in monitoring performance on a timely basis. Sometimes, specific amounts within a monthly/quarterly budget are merely proportional amounts of the annual total. For instance, monthly rent might be 1/12 of annual rent. But, other costs do not behave as uniformly. For instance, utilities costs can vary considerably with changes in the weather, and businesses need sufficiently detailed budgets to plan accordingly. Major capital expenditure budgets may transcend many years. A manufacturer may have 10 facilities in need of major overhauls. It is unlikely they could all be upgraded in just one or two years; capital expenditure budgets may cover as much as a five to ten-year horizon….
If there is any problem to download, please right click on download button and open in new tab