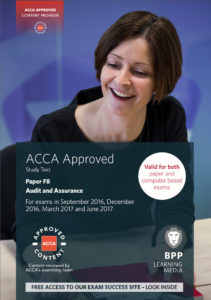 The Book Audit and Assurance is for ACCA paper F8. The latest BPP Study Text provides all the knowledge required for the Audit and Assurance module.
Study Texts cover the relevant syllabus comprehensively, at an appropriate level and in a clear, user-friendly way.
Features include:
in-depth syllabus coverage
explanation of key terms
fast forward points
chapter round ups
quick quizzes
The book is published by BPP learning Media Ltd.
BPP Learning Media is an ACCA approved content provider.