Free extension & plugin for easy view of books and videos in browser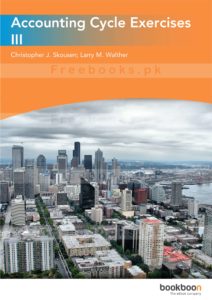 Larry M. Walther and Christopher J. Skousen
Problem 1
Following are three separate transactions that pertain to prepaid items. Evaluate each item and prepare the journal entries that would be needed for the initial recording and subsequent end-of-20X3 adjusting entry. Assume the company uses the balance sheet approach, and the initial recording is to an asset account. The company has a calendar year-end and does not make any adjusting entries prior to December 31…….
Problem 2
Caritas Publishing issues the Weekly Welder. The company's primary sources of revenue are sales of subscriptions to customers and sales of advertising in the Weekly Welder. Caritas owns its building and has excess office space that it leases to others. The following transactions involved the receipt of advance payments. Prepare the indicated journal entries for each set of transactions…..
Problem 3
EarCreations Technologies of Manchester recently introduced a blue-tooth enabled hearing aid that allows hearing-disabled users to not only hear better, but also interface with their cell phones and digital music players. The company reports the following four transactions and events related to December of 20X7, and is seeking your help to prepare the end-of-year adjusting entries needed at December 31…..
Problem 4
Nathan Goldstien's administrative assistant maintains a very simple computerized general ledger system. This system includes intuitive routines for recording receipts, payments, and sales on account. However, the system is not sufficiently robust to automate end-of-period adjustments. Below is the trial balance for the month ending January 31, 20X8. This trial balance has not been adjusted for the various items that are described on the following page. Review the trial balance and narratives, and prepare the necessary adjusting entries….